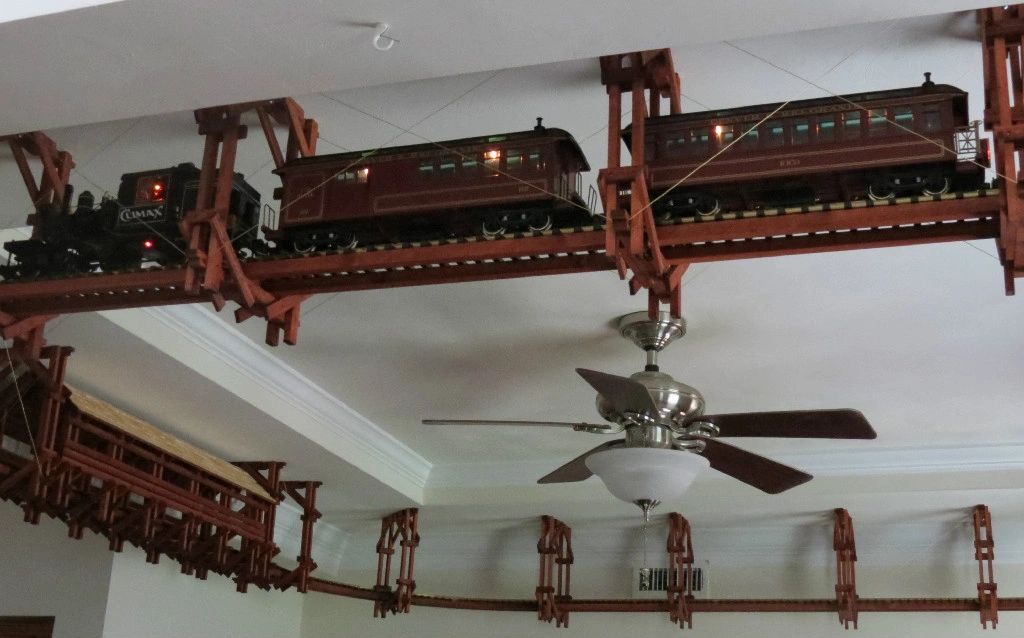 Brad,
I could not be more pleased with your fine product. From the precision of the layout blueprint measurements to the fine craftsmanship of track bed and hangers, to the continued support you provided throughout the process from original contact to final installation, I would easily recommend a
CeilingTrainKit.com
layout to anyone.


We love how it came out…thanks for all your help!
Charles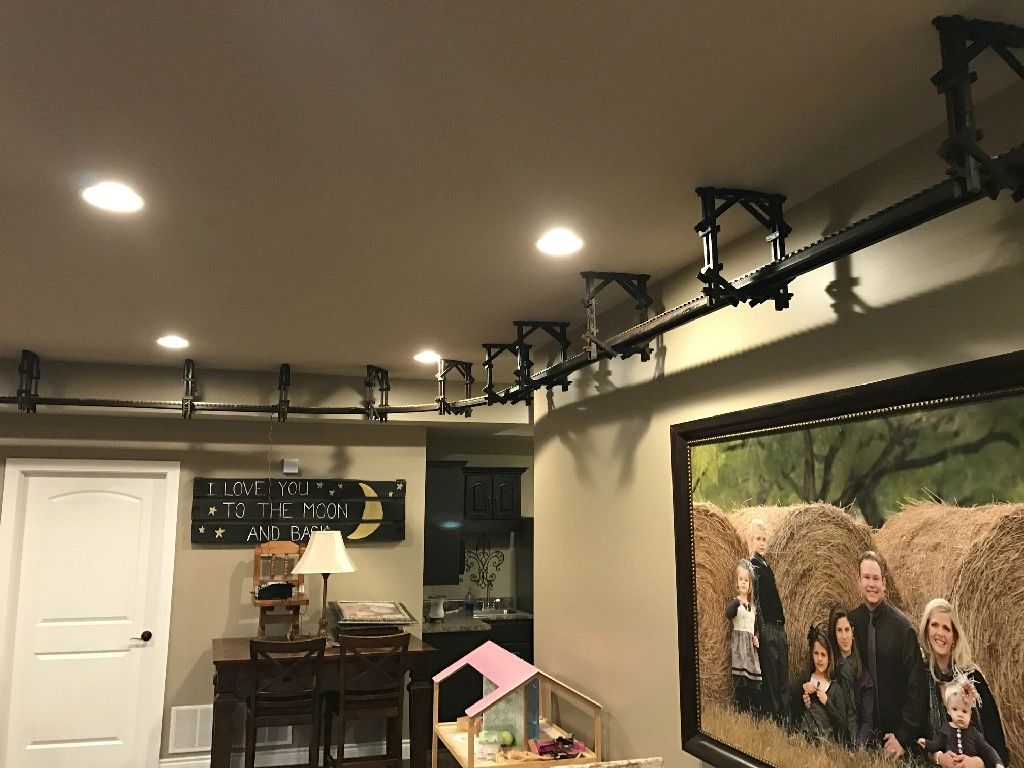 Brad, I can't thank you enough. Your system is so rad!!! The best
looking setup anywhere. I am on cloud 9 right now...so proud. I don't
have very many friends into trains but I will definitely spread your name if
the opportunity presents itself.
You included everything needed. That was a godsend. Last point....
you rock!!!!
Thank you
John
Wow!!! Such craftsmanship!!! A beautiful ceiling train set!!! I love the color!
Thank you so very much!!
John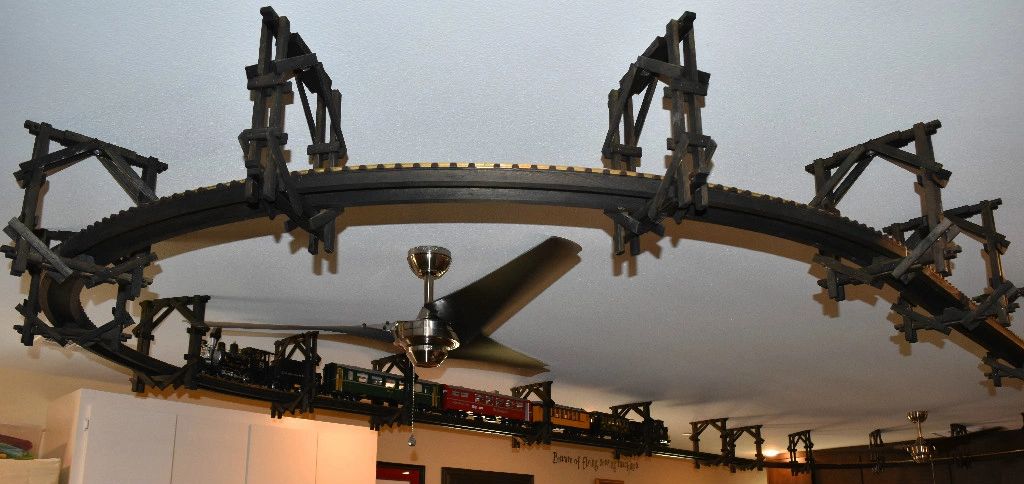 Wow. You have an amazing product. And great service too. The package arrived in perfect condition. I've never seen anything shipped so well. The package arrived and I started putting it up. Took about 1 day and a half to put up, mainly because I used the old LGB flextrack from a previous Railroad in our backyard, and had to clean it up and re-bend it (not difficult, just time consuming…)
I have to thank you for having it delivered on my Son's birthday. Receiving the boxes was definitely the highlight of his day.
I can't believe how well built the system is. Top Quality. Train is running and it looks great. I'm still putting the finishing touches on my Son's room, I will forward pictures once it is all done.
Thanks again, Brad. I will be sure to spread the word about what great products and services you provide.
Thanks Robert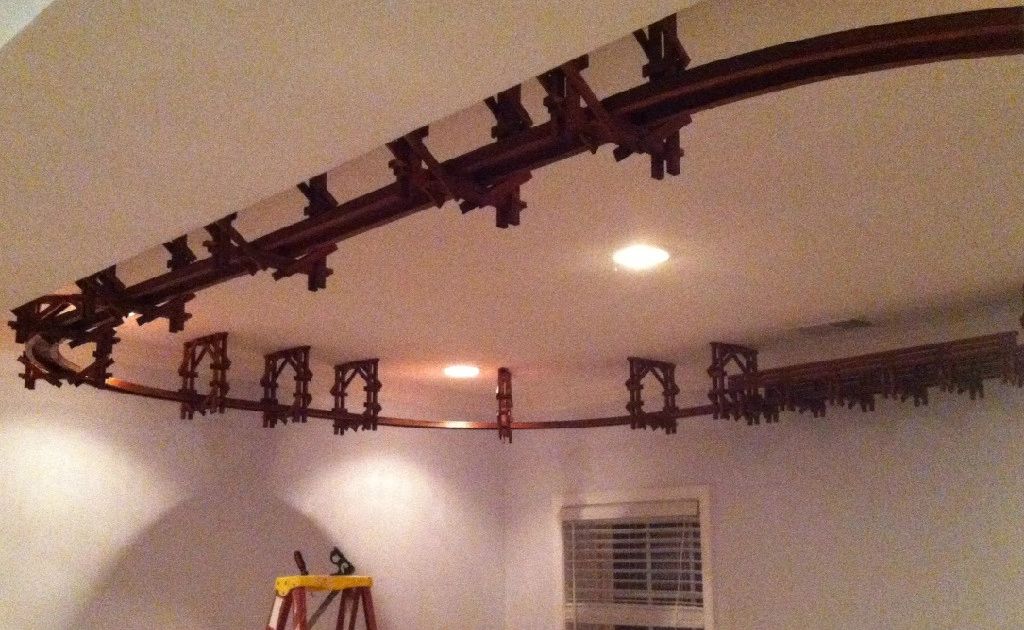 What a great product!

From design, attention to detail, amazing packaging, to ease of installation, this has been a fun project.
We're still shopping for an engine and track and hope to have a train running soon.
Can you settle an argument for us: I say you must have an engineering background to put together such a complete end-to-end design. My wife says no, you must be a teacher. Otherwise how could 2 people with zero experience be able to follow the instructions and install this product so easily.

Thanks again, Dan
Hi,
What a great product!
We had a lot of fun with this project from start to finish and drive the train every chance we get.
Thanks,
Dan & Jason & Grandma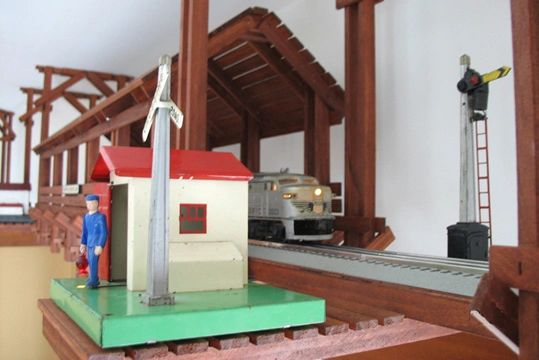 We are very happy with the way this has turned out. I will gladly recommend the ceiling train kit to others.
Phil




I'm not sure who loves this the most! It's a 3 way tie between my husband, our son, and myself. Thanks again, Brad! Michele


Your ceiling train kit really looks good and am anxious to get this part of my new train room running. Just for the record, this is one big room dedicated for model railroading, that is coming along nicely. I built an entire second floor on my house to accommodate this lifelong dream. Your trestle set will be an outstanding part of this environment. Sincerely, Ray
Got it yesterday and unpacked it today. Everything looks fine and I plan to install over the weekend. I feel pretty comfortable w/ how everything goes together. I very much appreciate your attention to detail and very carefully packaging everything. The quality of your work is outstanding. Looking forward to a fun weekend! Take Care and Thank You!!
Glen
The kit looks amazing and your help has been beyond my expectations.
Thanks again, Jim

Brad,
I purchased a train kit from you earlier this year when I lived in Anchorage Alaska. Well, we ended up moving to Houston TX and I finally got the chance to put the kit together. I am thrilled with your product. It is extremely well engineered and I really enjoyed the process of hanging it. The kit was very nicely packaged for shipping. It all came through undamaged (first through the USPS to Anchorage, then moved with the rest of our stuff to Texas). The kit itself is beautiful, there is no other word for it. You did a terrific job and I will certainly advertise your work at every opportunity. Thanks you so much! I'll try to get a photo or two for you.
Steven
Katy, Texas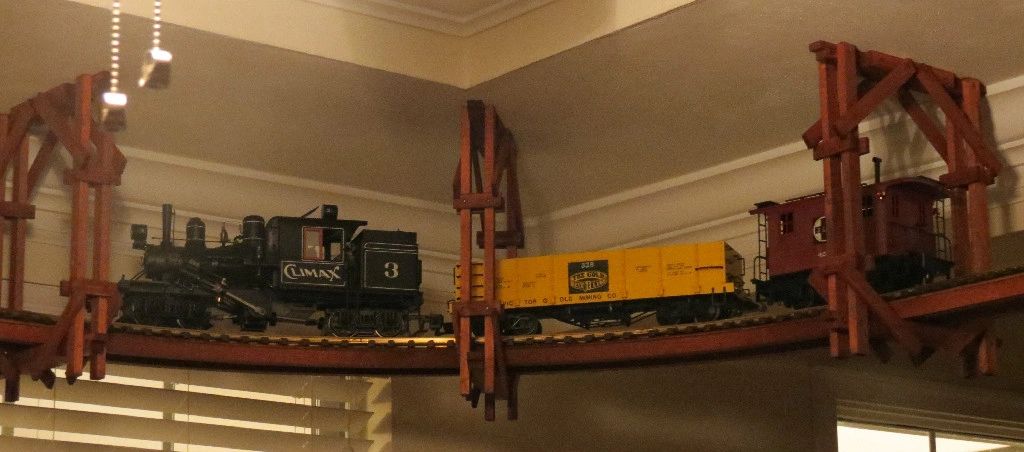 I continue to get lots of 'oooooohs' and aaaaaahs' from neighbors and family when they see the beautiful results of your kit. Hope you are doing well.
Take care,
Joe


Brad:
I am not sure what is more impressive, the workmanship or the care you put into the packaging. Thank you.


Brad,
EVERYONE loved the train at the party. We had a great time "demo-ing" every time a new group of guests arrived.
Our daughter and son in law are very quality and style conscious -both were totally amazed at how the hangers are more than just functional, but part of the overall authentic look.
You did a GREAT job on the design and installation, and really added to our holiday experience. We looked at a number of other designs before choosing, and yours were bar far the coolest. I was really pleased at how solid the hanger and track bed system are.
I would strongly recommend that anyone wanting an indoor train but not wanting to devote a whole room exclusively to trains, look at your ceiling train design.

Ok then, Geoff and Cindy Austin TX

  I will like to thank you for the very professional ceiling kit you made for me and the instructions so easy to follow, you will be highly recommended . Thank you again. Mauricio
Brad.
  Just received the package.  May I say your packing prowess is second to none.  I am grateful for your attention to detail.  Hopefully this weekend I will begin my installation.  You my friend; have exceeded my expectations.  I thank you.  I will be forwarding photos upon completion.  Thank you again.            

Anthony