Start by push pining all corner paper patterns in corners of room following the detailed layout drawing. Option: Use Loctite light repositionable spray adhesive to position paper patterns to the ceiling. Available at Lowes.



Line up all straight paper patters with lines on paper, push pin all straight paper patters centered between corner paper patterns.



When you are sure you have all paper patterns aligned exactly where you want them to be, you can begin drilling. Wearing safety glasses, slowly begin drilling all of your 3/4" holes with the provided cutting edge bit at the X marks. Use a vacuum at drill location to cut down on dry wall dust. If you relocate your ceiling train kit, to repair your holes, cut up a sponge and place in hole 1/4 deep, skim joint compound over holes and paint.


When finished drilling all the holes, remove all hanger placement rectangles with a box cutter and straight edge, leaving a lite score in the drywall so you don't lose your square and exact placement for your hangers. (Option) punch the four corners of the hanger placement rectangle with a awl or a small brad nail. Works great and quick. Try a push pin provided with your kit, wiggle it around to create a larger hole.

Insert toggle bolt into 3/4" drilled holes, making sure wings flip out after inserting into holes. Paper can be removed at this time and dust, or vacuum at drill locations before inserting the hangers.


Tighten toggle bolt with #2 Phillips head bit while gently pulling down on hanger. Align hanger within lightly scored hanger placement rectangle.



Begin laying all of your straight track beds, bridges, and curves, centered on hangers. Leaving the areas highlighted on your detailed layout drawing to be trimmed. Anchor track bed with 1 1/4" brad nail gun, hot glue gun for easy removal or a drop of hot glue at the edge of the hanger and track bed. Make sure everything is plumb and square before gluing, screwing or nailing.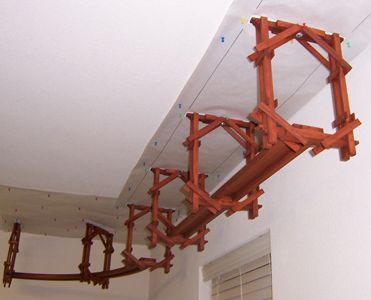 A few sections of straight track bed will need to be trimmed to fit the room. Trimming locations are highlighted on your detailed layout drawing. After all hangers, track bed are in place begin laying and anchoring all of your track to the track bed.



G gauge track anchoring screw placement, screw through edge of railroad tie into outer edge of track bed at all rail connections. (Tip) After laying all of your brass G-gauge track. Use a sanding block on top of the rails to sand all of your track connections smooth. For a nice smooth quiet train ride. (Brass track only)



Wood blocks come stained and mounted underneath track beds at screw locations when anchoring your O-gauge track so the screw tips dont show.



After all of your track has been installed, start stringing your single strand of steel or brass wire on all straight track sections, feed through holes from top of hanger to the bottom of the next hanger. ( track bed must be glued, screwed, 1 1/4" nail gun to use the wire) If you choose not to use he wire (Dry mounting track bed is OK) Secure the 24 gauge steel or brass wire with threaded screws, optional #1 picture wire. Wire is only for looks. You can order your ceiling train without holes or wire.




For the advanced craftsman to see your G-gauge railroad ties after all of the track bed is dry mounted and your ceiling train kit is square and plumb. Remove one section of track bed at a time and remove the 1/4" plywood with a putty knife from the track bed supports and then replace the supports one at a time to the hangers. Glue and shoot the supports down with 1 1/4" nail gun into the hanger or glue & screw the supports to the hanger with a 1 1/4" screw.